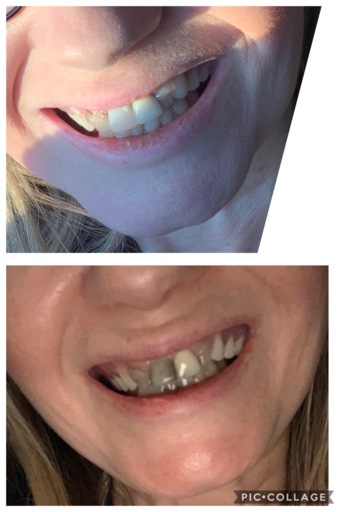 Drastic color change in under a week
Please help, i'm so worried. I had a resin composite build up with two metal pins for my top front tooth after it broke off at the gums. Dentist asked if I had injured that tooth before because the nerve looked damaged. It was beautiful and matched my crown next to it. That was six days ago and since, it has turned almost black, along with the two lower front teeth below it which were filled in August when being fitted for a metal cast partial. The partial was not fitted properly and pushes against upper front teeth, moves around, shows gaps and my gums are irritated and taste like metal when removing it. (Getting new partial started in January). Just really concerned as this has never happened with my fillings or teeth before. I only drink water with one cup of coffee in the morning, don't smoke, drink or do drugs. Top picture is 6 days ago, bottom is this evening.
No answers so far.
Do you want to answer this question? Login or register now to answer this question.
More Questions from General Dental